The Group of Seven from Canada is surely one of the most important parts of Canada's art history as they were the ones who brought originality and momentum to Canadian paintings, and the Canadian art gained accreditation from people. However, this does not mean that there were no amazing artists before them, and neither does it mean that the Canadian art ended with them and there were not any notable artists after them. There had been distinctive artists before the 20th century and they have continued to get fame in the history of Canada. Therefore, here are some majestic Canadian painters, excluding the Group of Seven, to commemorate their mesmerizing artworks.
1. Cornelius Krieghoff
Cornelius David Krieghoff is a painter from the 19th century and was born in 1815. Krieghoff is mostly famous for his paintings of vivid Canadian landscapes and Canadian life outdoors. After his death in 1872, many of his sketches were destroyed in the Great Quebec Fire. Nowadays, a few of the public collections that hold the works by Krieghoff are present in the Art Gallery of Ontario, the Glenbow Museum, the McCord Museum, and the Montreal Museum of Fine Arts. He was one of those rare artists whose paintings were in demand in his time as much as they are today.
2. Kazuo Nakamura
Kazuo Nakamura was a painter and sculptor and was a founding member of the Painters Eleven group in Toronto. He was born in Vancouver in 1926 and died in Toronto in 2002. He studied at Central Technical Institute in Toronto. Kazuo's works are famous for his abstract paintings and simple structures. His work indicates a connection, a universal pattern in all art and nature. One of these paintings is Inner Structure.
3. Jack Bush
Jack Bush was a Canadian abstract painter who lived from 1909 to 1977. Bush was a member of the Painters Eleven group that was formed to promote abstract painting in Canada. An abstract painter himself, Bush excelled in color field painting and post-painterly abstraction. Nowadays, some of his collections are at the Art Gallery of Ontario and the National Gallery of Canada.
4. Emily Carr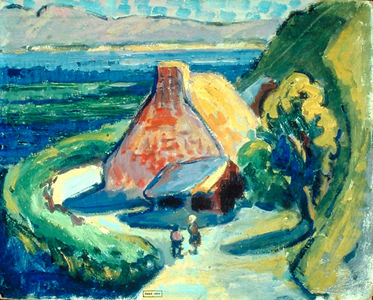 Emily Carr is described as a Canadian icon. She was an artist and a writer. She was one of the first Canadian painters that adopted a modernist approach to painting. She started painting from aboriginal themes, but gradually her subject of painting changed to landscapes and forest scenes in particular. Although she was never an official member of the Group of Seven, Emily was highly associated with the group due to the similarity in the subject of their paintings. Some of her prominent works are Blunden Harbour and Kitwancool.
5. Tom Thomson
Tom Thomson was one of the most influential Canadian artists in the early 20th century. He influenced the formation of the Group of Seven and would have been a part of the group if he had not died before the group was officially formed. However, he is still highly accredited to the Group of Seven. Some of his most famous works in landscapes are Pine Island and Forest Undergrowth.
Article Credit: https://realestatehomesbc.ca/